My neighbor's house got broken into about a month ago. A week later, another house. They even tried to go in to my friends house. Thank god, they didn't manage to get in to the room because my friend's sis was in the room at the back of the house. God knows what will happen.

When my friend came over she was shocked that the Ind*n robbers went into my neighbour's house and not mine. You see my neighbour house looked like those young single ppl who's renting house and we've fully renovated our house. So of course Big C checked out grills and all and nothing, not even a scratch. Then I remember, I did add "something" to protect ourself from bring robbed.

The fengshui master that came to my house before Jayden was born told me that my area fengshui are destined to have robbers who is our neighbour. My Neighbour are robbers? No...., apparently there are some Ind0ns staying near the river separating my neighbourhood and Bandar Utama. So he said, you must put "this" thing here *pointing at my back door* and cactus as big as the owner's palm in front of your gate.

These Ind*ns robbers uses JAMPI before they go into your house and rob you while you sleep soundly. Like my neighbour, he cannot hear a single sound and he woke up so surprised to find his wardrobe at the back of the house. So what is the "thing" that can break the spell?

This!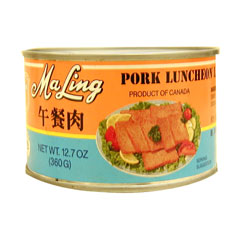 You can use this canned luncheon meat or pig bones(the one you used for soup) and stuff it into a plant or something. The master said that Non-halal items can break the spell. So far so good. Just buy one and keep at the back door and eat it when it's about to expire and remember to buy and replenish stock ya.

Note: how we know that it's Ind0ns leh? Because my neighbour went to M@xis and canceled the line. In within few hours , they already made about RM400 calls back to Ind0nesia. That's why la....
13 comments: